Meet Our Team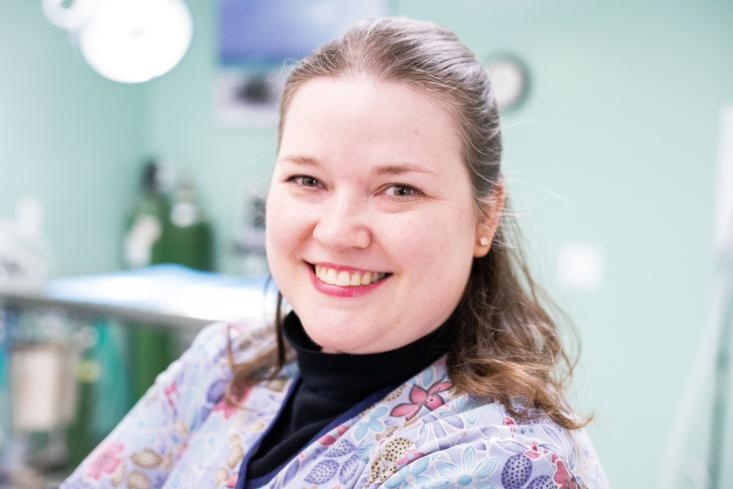 Dr. McCallum
Veterinarian
Dr. McCallum graduated from Kansas State University with her Doctorate of Veterinary Medicine (DVM) in 2007. Since that time she has worked at Belton Veterinary Center as a general practitioner. She has a strong interest in pet nutrition and would love to talk to you about your pet's nutritional needs!

Her family currently lives in the Kansas City area, but after getting her Biology degree she and her husband lived in Japan for two years. She loves to read, play video games, and hang out with her two silly dogs.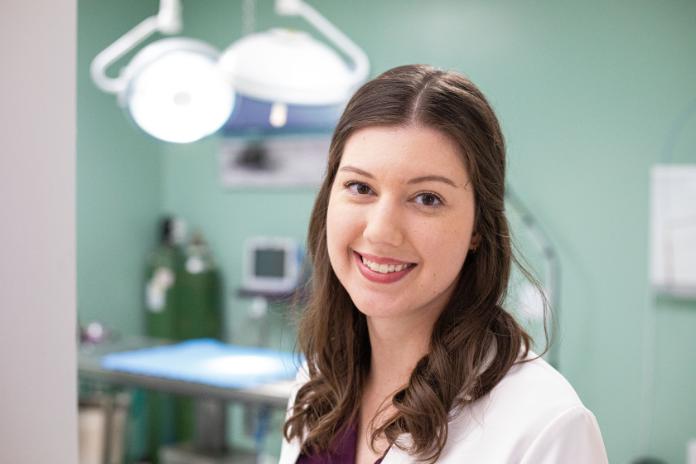 Dr. Shenefield
Veterinarian
Dr. Shenefield has been a veterinarian at Belton Veterinary Center since July 2020.

Dr. Shenefield graduated from Kansas State University College of Veterinary Medicine in 2020. Always a Wildcat, she earned her bachelor's degree in animal science from Kansas State University in 2015. Her professional interests include surgery and senior pet care.

Dr. Shenefield was born and raised in the Kansas City area and currently lives in Kansas with her husband, John, who is also a veterinarian. Together they have 5 rescued pets: 3 dogs (Murphy, Daisy, and Clyde) and 2 cats (Josephine and Boo). In her free time, Dr. Shenefield enjoys spending time outdoors. She loves gardening and going on walks with John and their dogs.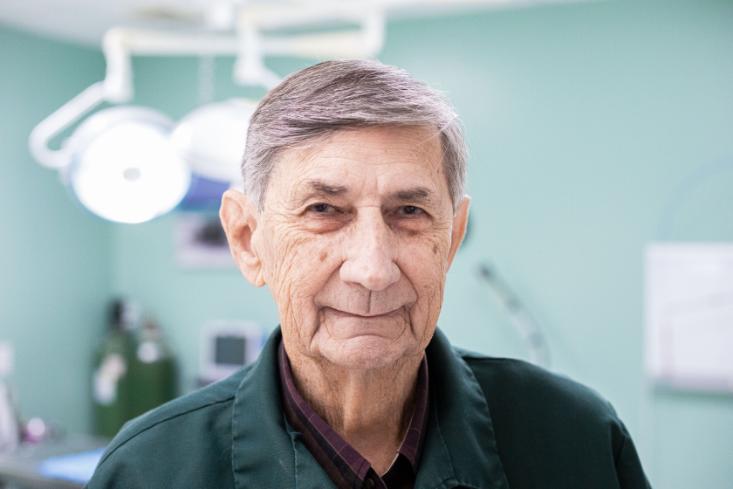 Dr. Vansickle
Veterinarian
Bio coming soon!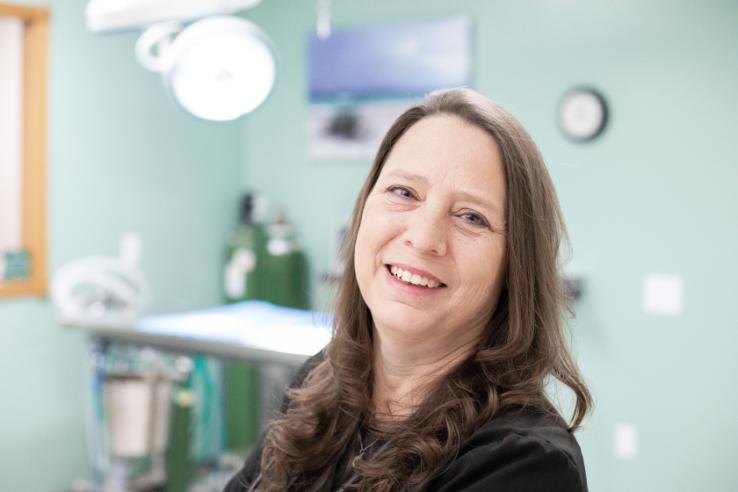 Wendy
Hospital Manager, RVT
Wendy has been employed as a Registered Veterinary Technician at Belton since 2018.

Wendy graduated from Anthem College in 2014 with an associate of applied science degree in Veterinary Technology. She graduated with honors in academic achievement and attendance. While In college, she served on the Veterinary Technology Advisory Committee. She also served as the president of the student chapter of NATVA (National Association of Veterinary Technicians.)

Wendy has been a SIM advocate for Bayer Animal Health. She has completed the Bayer Communication training and earned several other certificates in communication.

She has been involved in animal rescue for over 20 years, saving the lives of many animals.

Before coming to Belton, Wendy worked in the animal field for over 20 years, doing different jobs such as a registered technician, receptionist, veterinary assistant, kennel assistant, and professional groomer.

Her passions include anesthesia, phlebotomy, animal behavior, management, and the overall treatment of animals.

When Wendy is not caring for her patients at work, you can find her spending time with her husband of 37 years, 3 children, 9 grandchildren, 5 dogs, and 3 cats. You may also find her enjoying nature by doing things such as mushroom hunting, fishing, or just taking a hike in the woods.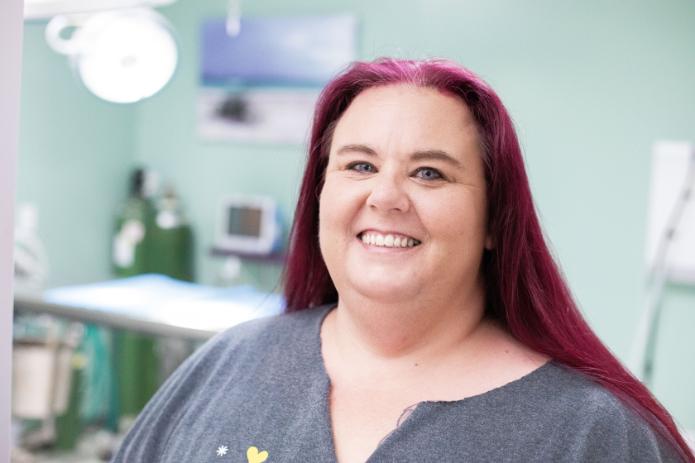 Bridgett
Tech Assistant
Bridgett has been a veterinary assistant at Belton Veterinary Center since July 2002. All her special clients and their fur babies make the job worth coming to each day. She currently has three cats at home: See-Chee, her fat, sassy, old girl, Cavalier, the little terrorist, and Fox AKA Bubba, who is an absolute little monster. She is constantly being bossed around by her cats and wouldn't have it any other way! A fun fact about Bridgett is that she loves unicorns and has collected them since she was young.

She enjoys setting up her fairy garden in the spring and summer and gets excited when the stores bring out new fairy stuff for the season! While she likes plants and flowers, she is not as good with green things as she is with furry things.
Ashley
Tech Assistant
Ashley has worked at Belton as a Veterinary Assistant since August 2021.

She has four dogs. A white German Shepherd named OB, the first dog she owned as an adult. A Pittie named Moose, who loves everything except crocks. Penny, a Staffordshire Terrier, is a wonderful snuggle buddy. And Georgia, a Dachshund/ Corgi mix. Ashely is Georgia's emotional support human! In her free time, Ashley cares for her backyard hens and enjoys reading a good book!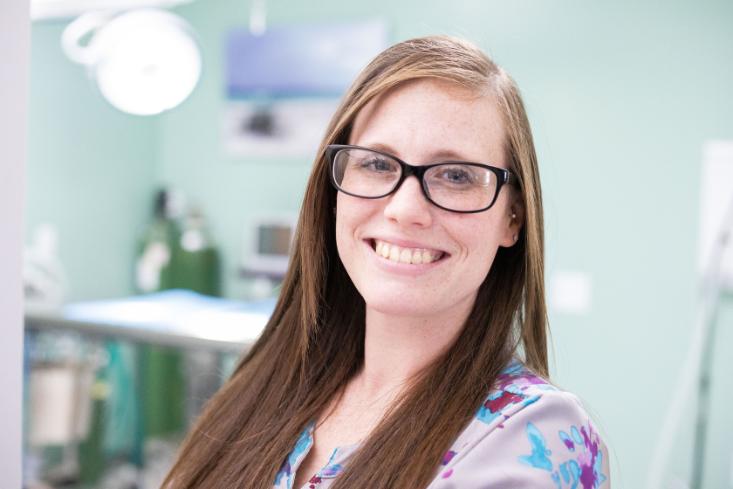 Jen
Tech Assistant
Jennifer has been a Veterinary Assistant at Belton Veterinary Center since 2012. She loves seeing all of their regular clients daily and meeting new ones as well. She does the ordering of all of their prescription products and is the inventory manager.

She has two children, a four-year-old girl, and a two-year-old boy, and is supported by her man Tommy, who she has been with for 6 years. She also has two cats, Jasmine and Toulouse, and a turtle who is 23 years old!

A fun fact about Jennifer is that she is an identical twin, and her sister lives in Oregon!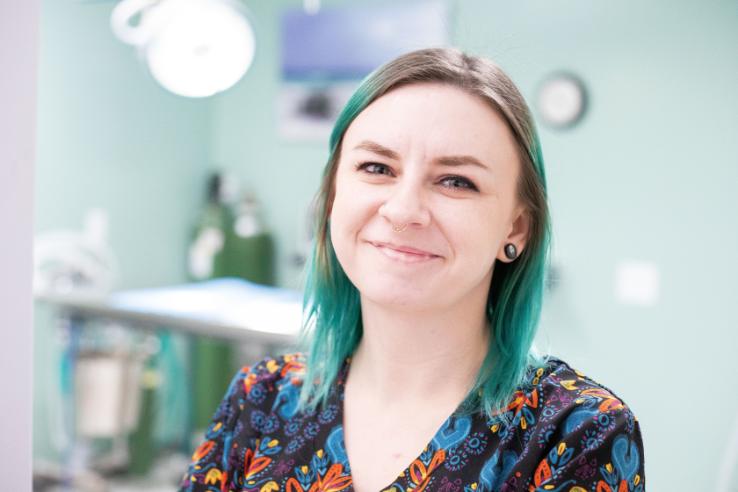 Katelyn
Tech Assistant
Katelyn has worked as a Veterinary Assistant at Belton since May 2021. She enjoys seeing clients and helping to take care of their needs.

Katelyn has four pets! Cooper is her only dog; she says he is full of sass but has the cutest face! He spends his days lying in the sun soaking up all the rays. She has three cats, Mushu, Zira, and Okra. Mushu is the sweetest kitty, Zira may be plotting the apocalypse, and Okra is full of energy (she also happens to be the baby).

On her days off, Katelyn enjoys being cozy, playing video games, and playing Dungeons & Dragons. She loves going to concerts with her husband in their free time. They also enjoy traveling to see their families, who are spread throughout the U.S.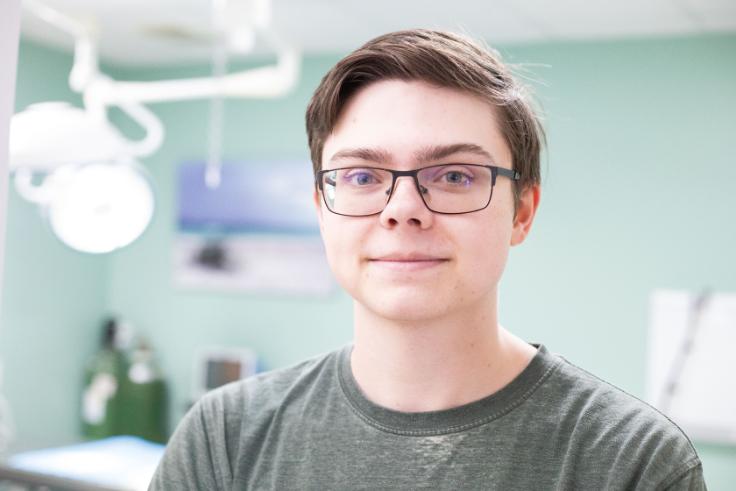 Ian
Tech Assistant
Ian started working at Belton as an Intern in 2019 and is now a Veterinary Assistant. He has two cats, Zelda, and Yardstick, both of whom came from the clinic! Emaryn
Kennel Tech
Emaryn is one of the main kennel staff at Belton, although you might catch her in an exam room or staffing the lobbies.

Growing up, her family always had dogs- from their regal Akita mix to her special Beagle buddy, to the ones that would need a DNA test to classify. All of them were much-beloved family members that had special accommodations, such as cooling pads, traction mats for outdoor steps in the winter, and the infamous trash can modification to foil even the most determined canine.

Currently, Emaryn lives with her husband and two spoiled cats that they acquired from the clinic. One is a chatty Calico named Speed Bump- who was hit by a truck as a kitten (she is not particularly smart). Ullr is a Siamese Tabby mix who can be bribed into performing tricks but is known to fall off platforms and land on his head. With luck, both cats will learn to live with the future inevitable dogs. Casey
Veterinary Assistant
Casey has worked at Belton since 2010 as a veterinary assistant. She enjoys doing lab work including taking care of the maintenance of the lab machines. She also enjoys doing radiographs (x-rays) and assisting in surgery.

She has always loved animals and has a special place in her heart for feral cats.

Casey loves growing flowers and taking care of all of her plants. She also loves going on vacation and traveling to unfamiliar places.

Her heart belongs to her 5 fur babies, Ichigo, Renji, Cosmo, Kenpachi, and Byakuya. Oh, and maybe a few feral cats. Tara
Veterinary Assistant
Tara has worked at Belton since 2013. She works part-time as a Veterinary Assistant.

She loves working with animals and has been involved with rescue since 1996. She has cared for countless hospice and foster pets.

In her spare time, Tara enjoys reading and scrapbooking.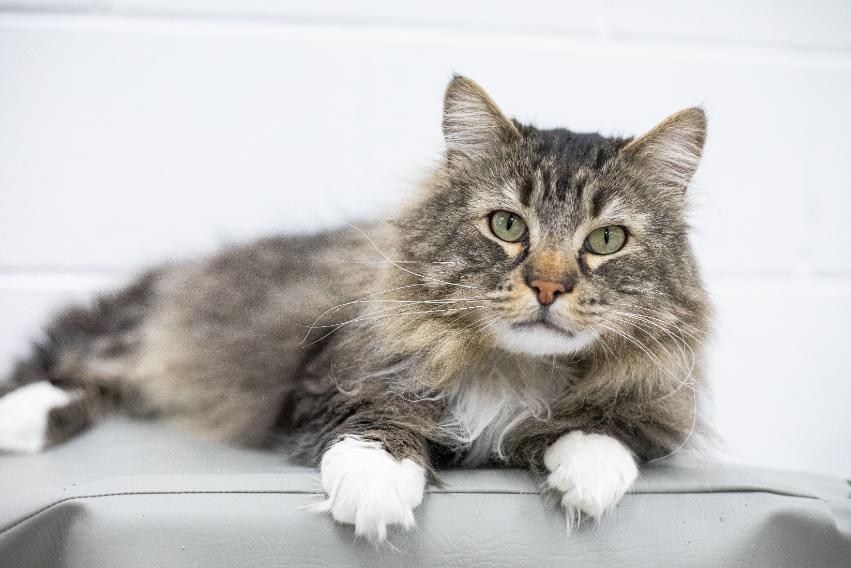 Biggie
Clinic Kitty
Bio coming soon!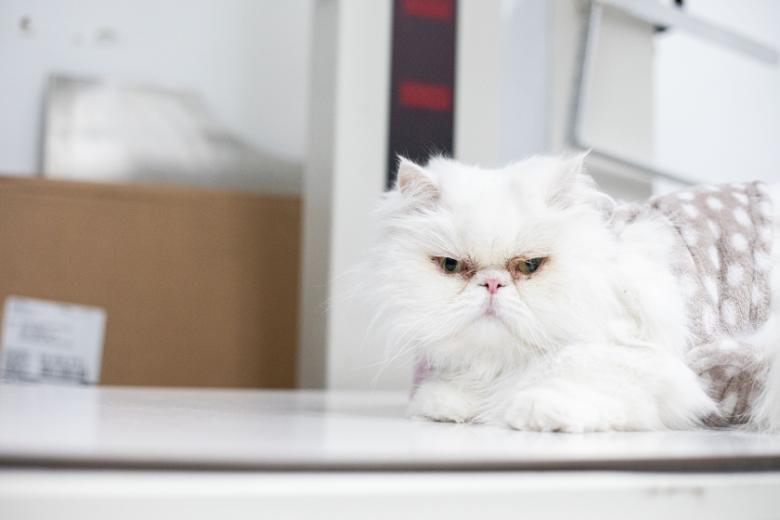 Pixie
Clinic Kitty
Bio coming soon!