Boarding
Our facility is fully equipped to board your dog or cat while you are away. We have a variety of options for our dog boarders, ranging from small kennels to large, indoor dog runs. Our "Kitty Condos" are specifically tailored to the comfort and unique needs to our feline boarders.
Cat Boarding
We have a separate entrance for cats. You can bring your cat into the facility without loud barking or encountering dogs in the area on leash. We also have "Kitty Condos" for the specific needs of cats in our boarding facility.
Our feline guests each a have large "kitty condo" with 2 rooms so that the litter box area is separate from the dining & sleeping area. Current Rabies and feline distemper/rhino/calici virus vaccinations are required to board.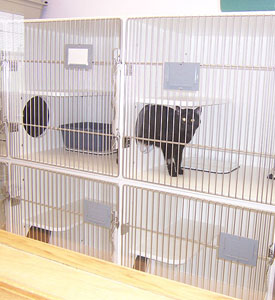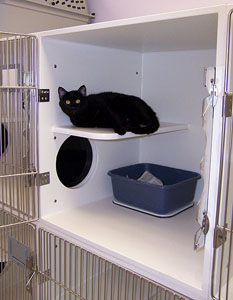 Dog Boarding
In addition to dog related care services, we have a boarding service offering many amenities catered to dogs. You will find a large dog run attached to our facility allowing dogs to have daily exercise and play time.
We have a variety of kennel sizes available for small dogs up to large runs for big dogs. Every kennel & run is cleaned twice daily and all dogs are leash walked inside a fenced yard twice daily. Any canine guest that stays with us for 7 nights or more will receive a courtesy bath the day prior to going home.
We serve Hills brand pet food to our boarding pets and provide blankets or pet beds, but your pet is welcome to bring his or her own food, bedding, or toys.
Call us to discuss your pet's needs and get a boarding quote today!